Adult 18+ Portfolio
Portfolio
Jane has been living in a contented menage with San Francisco couple Marina and Pete, but after a year she has started to long for more. Her lovers whisk her away for a memorably dirty spring weekend along the central California coast, where Jane gets to indulge in some kinky and passionate new experiences with group sex, including a night of naughty fun with experienced couple Rick and Heather. Will all this be enough to satisfy Jane's appetite?
Warning: This 9000-word novelette contains explicit MFF scenes, including impromptu car sex with a lucky farmer.
Book at Amazon
Book link at Nook
excerpt:
I was trembling at the beginning of my own orgasm, on the verge of an explosion, when I heard a quiet tapping on the window. Marina kept my head pushed down with her arm, whispering, "Keep going…" Pete slowly pulled out. Sounds were muffled but I heard a man's voice say, "Oh, I'm sorry! Would you like to pull into my field for some privacy?"
"Sorry, we're OK. We're just finishing up," I heard Pete mutter, breathing hard, but he didn't sound frightened. I heard him zip up.
"What a beautiful ass she has," the man said.
I felt the cool air on my ass from the open door. It wasn't unpleasant.
"I'm Henry," the guy said to Marina. "I just thought I should check out what was going on near my property. Please, don't mind me…"
"Would you like to take a turn?" Marina asked him politely. I couldn't believe she said that! She still held my head down firmly and I was relaxed enough to let her call the shots.
"Yeah… um… but please pull into my driveway; it's up the road about 100 yards."
"OK," Pete said.
The door closed. I heard Pete get into the driver's side. The car was moving. I was still in a daze, my face warm and my cunt throbbing.
"He had a sweet face and a huge erection," Marina said helpfully. "I think you'll like him.
I didn't move, and I heard the door open again once the car had stopped.
There was a new hand on my ass, evidently Henry's. Pete must have handed him a condom because I heard him say, "Oh, OK, thanks." I tried to work out how old the guy was. Thirties, maybe? An unmarried sheep farmer? My heart was beating, but in a not unpleasant way.
"Don't look around," Marina said softly. "It'll be more fun that way."
"Yep, I'm not much to look at," Henry said cheerfully. I felt him gently probing my folds, lining up the tip of his cock. Then he sank into me and I gave a little scream.
He was enormous. He handled himself very slowly and gently, but it felt like a good ten inches moving inside me. Luckily Pete had done a good job of lubing me, and my own juices were helping out.
************************************************************************************************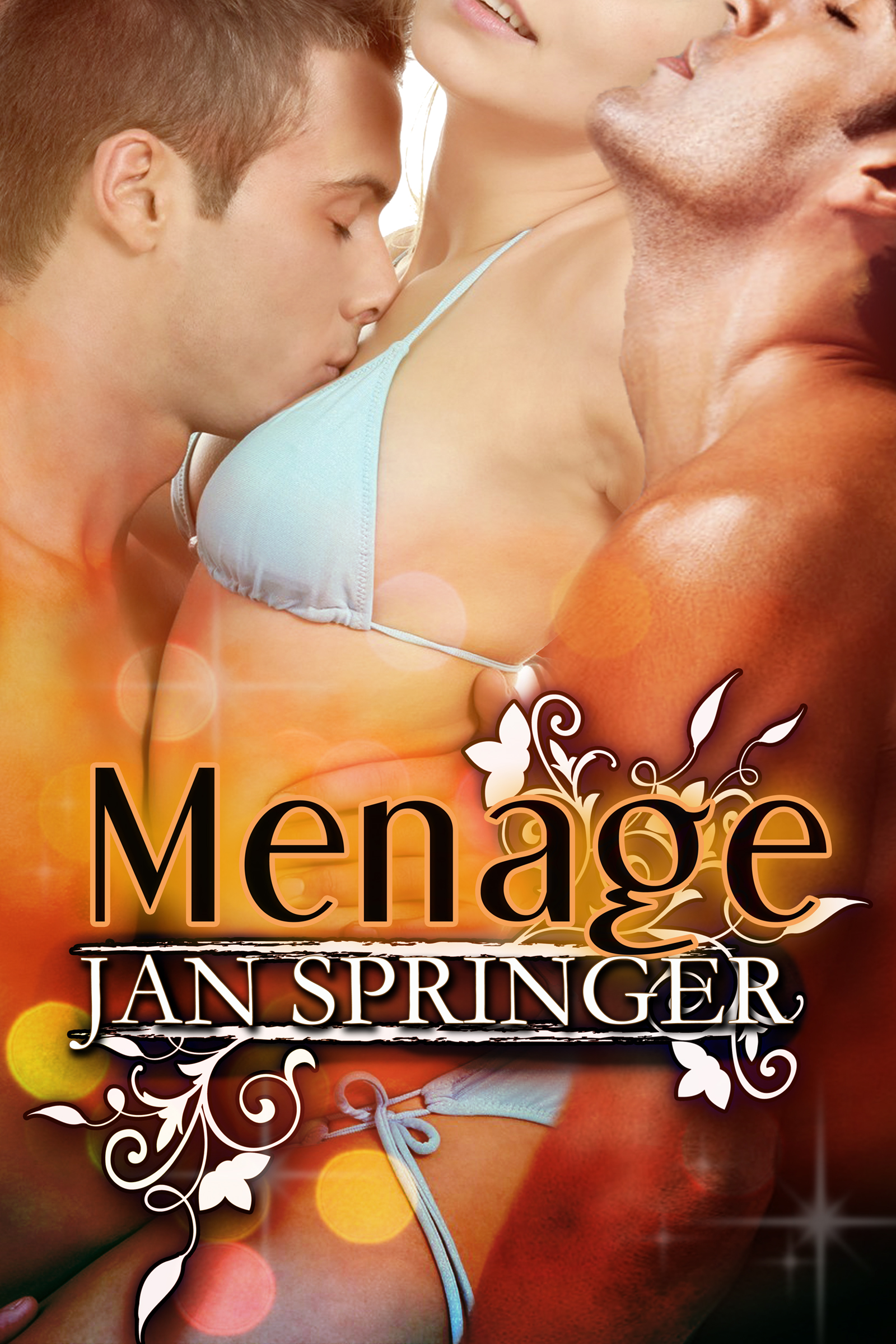 Blurb
Chained to her desk with constant deadlines, erotic romance author Claire Miller enjoys an occasional unwind at The Key Club, a local hangout for swingers. When she picks the ménage key, Claire is paired with a couple of hot sex-on-a-stick hunks who'll make her naughtiest dreams come true.
Instant attraction makes construction workers Josh Anderson and Levis Jones take notice of the pretty yet timid woman at the Key Club. She's a hot dream the two men can't wait to experience, and their desire for Claire becomes a pleasure they don't want to escape.
Excerpt
"Two very hot sex-on-a-stick studs to your right," Claire Miller's best friend, Sophie Bennett, said beneath her breath as they stepped into the crowded nightclub nestled in the outskirts of their Alberta town.
Claire glanced to her right. As she caught sight of two very muscular men she'd never seen before awareness flared to life. She loved bulging muscles on a guy and these guys had tons of them. The men sat at a table just inside the door. They looked like they could be hunks right out of the erotic romance novels she wrote. Their faces had strong, well-defined features. They had dark eyebrows, perfect noses and their cheeks and chin were dark with a five o'clock shadow giving them a sexy, dangerous appearance. They had lean bodies and were too good-looking to be true.
"Oh, break me out a fan and bring me some ice cubes," Sophie chuckled as she waved her hand back and forth in front of her face.
More like a bucket of ice cubes, Claire thought as she studied them. Those delicious looking muscles bunched beneath their tight shirts as they lifted their beers and leisurely sipped while they watched the people on the dance floor. Their luscious mouths wrapped neatly around the bottle openings and she imagined their lips sucking on her nipples and their tongues lashing her clit. Her ass and vagina clenched at the idea of both men double-penetrating her.
Sophie didn't know it yet, but Claire had been preparing for tonight by wearing a butt plug over the past few days. Hopefully, she would get lucky and pick the ménage key and end up with a couple of well-hung fellows who looked like those two men.
"Let's grab a drink," Claire said as she looped her arm through Sophie's and steered her quickly toward the bar. Given enough time, Sophie would lead the two of them back to the hunks and ask them point blank if they were participating in tonight's Key Club festivities. That was what she loved about Sophie. She was bold where Claire was normally reluctant and cautious. And Claire's shyness was kicking in big time right now. A cold drink to douse the flames whipping through her body was in order. Suddenly she wanted to experience a ménage with those two men and she wanted it bad.
**************************************************
The Devil's Heel
WARNING: This book has explicit language and strong sexual content.
A Homoerotic Pirate Novella
Five years ago Drew Hibbard dismissed Rogan Brockport from his life. Now, they meet again at the Governor's Ball and Rogan will know the reason for the abrupt, unexplained cut. After Rogan saves Drew's life during a pirate raid, he kidnaps him and the perfect opportunity to extract answers from Drew is finally at hand.
Hot Buzz:
Blurb: Jerri can't sleep at night. Every night she hears Krysta pleasure herself with her vibrator in her bedroom. Jerri wants to be the one to help Krysta find satisfaction and much more.
Then one night Jerri's jealousy gets the best of her and she confronts Krysta. She'll prove to her that something like a vibrator can't give her satisfaction, and only a flesh and blood woman like herself can
Buy link: http://www.amazon.com/Hot-Buzz-ebook/dp/B009BIOKXA/ref=sr_1_12?ie=UTF8&qid=1347802550&sr=8-12&keywords=hot+buzz
Link to my website: http://ktgrant.blogspot.com/2012/08/hot-buzz.html
Excerpt:
As she turned away, her roommate grabbed her shoulder. "I'm sorry I upset you. I didn't expect her to kiss me, but before I could push her away, you ran off." She moved in closer. "You've been crying?"
Wrenching away, she backed off a few steps. "Even if I were, what does it matter? I grow emotional when I drink, you know that."
"I'm calling bullshit on that lame ass excuse." Krysta shook her head. "You're upset I was flirting with another woman? You were doing the same exact thing with Casey. You kissed him first! Now we're even and we can put this whole night behind us."
"Argh!" Jerri yanked on her hair. "Even? How are we even? I'm sick of you flaunting yourself around acting like you're the shit. It's bad enough I can't sleep at night with you using your vibrator, keeping me up at all hours and getting me turned on." Her heaving chest and angry pants cut off her breath.
Krysta stared at her, red faced. "You listen to me masturbating every night? That's… sick."
"Sick?" Irate, she jabbed her finger into Krysta's chest. "You know what's sick? Using an inanimate object to get you off when you have a living, breathing person here who would be more than willing to do that."
Her eyes widened. "I know what you did in the bathroom last night."
"Yeah so?" she spat, curling her fingers into the front of Krysta's T-shirt. "I went ahead and fucked myself with my own dildo because all I wanted to do was storm into your bedroom and make you scream out my name as you came."
"I think we should forget this conversation ever happened and just go to bed—"
"Fuck this. I'm done arguing with you." She twisted her hands into Krysta's hair, taking her mouth in a hard kiss.
Strong hands wrapped around her shoulders, but didn't push her away. She increased the pressure and thrust her tongue in Krysta's mouth, sucking down hard on her bottom lip. Their tongues tangled over one another in greedy hunger.
She cupped Krysta's breasts and broke away. "After tonight you won't need an inanimate object or another woman to make you come. I'm taking what belongs to me."
Available on Amazon
CORNERED
LOVE AND LUST SERIES
Matt was in love with Imogen, and was tired of waiting for her. His best friend came up with the idea to lure Imogen to a place where Matt could finally have her in the way he'd yearned for.
Together, they persuade, seduce and guide Imogen all the way along the path to a three way tryst.
But would Matt finally end up with her in his life—liked he'd dreamed of?
Imogen is had by both men in the most splendid of ways. Her world becomes full of sensual pleasure, as these two good looking men have her wide open, ready and CORNERED.
This book contains three stories all based in the BDSM lesbian fetish erotica.
SEX: Sory one: April being the main character is the girl who is blindfolded throughout her entire ordeal, her introduction into BDSM is an unusual experience but she happens to take to this life easily.
POWER: Story two: Is about Tess and Morgan, already in a rlationship things are taken to a different level when Tess allows Morgan to be sexually fulfilled by total strangers. The main scene takes place in a private car park late at night. Morgan is seduced by different women as her girlfriend and strangers watch from their cars.
INTIMACY: Story three: Based on Max and Jay. Max researches in the fields of BDSM so that she can satisfy her lovers fetish desires. Max gives Jay the opportunity to become her mistress and practice her domination on her.
All three stories are BDSM XXX
Author website: www.shiralynlee.com
-   books available on Amazon.com and Amazon.co.uk also smashwords.com.
Shiralyn loves to write adult lesbian fiction in a variety of genres. Vampire Changeling is based on Rebecca Forbes; the moment she is bitten and becomes a Vampire and the changes she goes through. The author has used factual events that took place in 1709 and induced them into the story line, bringing it into modern day England and Canada. Shiralyn's other novels include a romantic comedy- Loving the Pink Kiss and Pink Crush, an erotic novel. Pink Seduction is currently being worked on and will be released shortly.
*****************************************************************************
Mike and Ginger have a very open relationship. Well, open on Ginger's end. Mike loves to see her get screwed by other men. Ginger has a preference of the type of men she likes too and Mike has no problem providing them.
Mike has a fetish too. He likes to watch and this interview with the local bodybuilding team is no exception. Ginger just hopes she can walk afterwards.
When Ginger is surrounded in the locker room by dozens of horny bodybuilders, she knows she going to get the fucking of her life. But where is Mike? Right now, she can't even think about that. The men are looking at her hungrily and parts of her body are ready for whatever they bring her.
And here are the website, email and buy links
Web: http://madametriplex.wordpress.com/
Email: madametriplex@yahoo.com
Buy Link Amazon:  http://www.amazon.com/Locker-Gangbang-Quickie-Sereis-ebook/dp/B006AFB6K2/ref=sr_1_1?s=digital-text&ie=UTF8&qid=1321833555&sr=1-1
*****************************************************************************
Daddy's Pregnant Little Girl by Lark Steele
A self admitted slut, eighteen year old Brooke Richmond finds herself homeless and pregnant. With no other option she goes to Ian Stone, the only person who has shown her kindness and one of the numerous men rumored to be her father.
Mr. Stone welcomes her into his home and shows Brooke just what it means to belong to daddy, take cock from a fully grown man and suck it like a good girl should.
Warning: pseudo incest theme, graphic language, explicit sex
EXCERPT:
After a while I answered his question. "I haven't slept with anyone as old as you, but I want to." I lowered my eyelids and placed his hand on my stomach. "You wouldn't have to worry about getting me pregnant. You could fuck me as much as you'd like and fill me up with your cum."
I wanted it so badly. That was always my favorite part, having a man release inside my hot cunt. I blushed again and brought my thighs together, recalling that I was still sticky from one of the potential fathers of my baby coming inside me, before he'd slapped my ass and told me he couldn't put me up for the night but I was welcome to come over if I needed a fuck.
Lowering his head, Mr. Stone brushed his lips over mine. "You have no idea how much I want to fuck you, Brooke. I've wanted to for a long time, ever since I saw that my little girl had grown into such a beautiful and sexy young lady."
He raised his hand and fondled my breasts. I could see the lust in his eyes and the definite bulge in his pants. My pussy tightened. I knew my underwear had to be wet. Mr. Stone was huge. I stared at his erection, wondering if his cock was going to rip through his pants.
Holding his hand, I placed it underneath my dress. "I want you to fuck me, Mr. Stone. I want to know what it feels like to have such a big cock inside my pussy." I slid my hand up his leg and cupped his cock through the pants. Mr. Stone was hard as hell and I wondered what his cock would look like…taste like.
He grunted and shoved his fingers into the side of my lace panties. "You think your teenage pussy can handle me, Brooke. You think you can handle a grown man fucking your little cunt, girl?"